We spent our morning playing at Let It Shine gymnastics. This is one of my favorite places to take the kids. Taylor has a blast and I get to socialize with other mamas.
Lately Noah has been quite clingy. He does not want to be put down and he makes sure that I know it when I do put him down. I blame it mainly on teething, but I think it is also just a phase of his right now. This morning at Let It Shine, it was no different. I wanted to spend some time playing with Tay, but Noah would not have it. As soon as I put him down, he was mad. This was the case for most of our play time. However, towards the end, he finally let me put him down. I took full advantage. I went and found Tay and did a few things with her. I kept an eye on Noah, but he was just roaming around having fun. I took my eye off of him for about 30 seconds and I turn around to him balling with this on his forehead!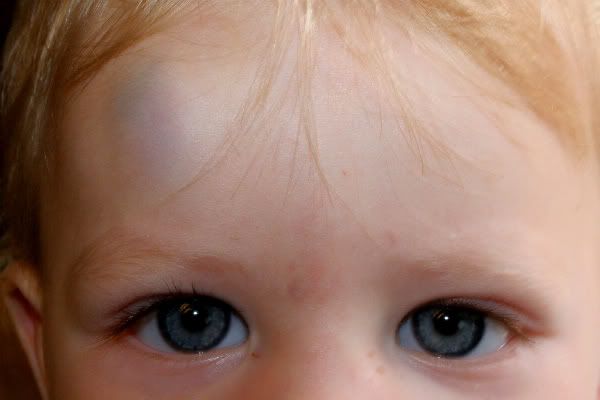 I felt horrible. Not only did another mom come to his rescue, I had no idea what had happened to him. BAD MOMMY MOMENT!
I also wanted to include Taylor in this post. I feel like she gets does not get as much "blog attention". To be honest, she is just not nearly as entertaining as Noah. I am not saying this is a bad thing. In fact, I love her for it. Taylor keeps herself occupied by playing with baby dolls and reading books. I love to sit and watch her "read".