We have been busy the past few days. Thursday night our neighbors had their 3rd annual St. Patty's Day party. We are always looking for an excuse to get together and I am pretty sure that I have some Irish in me, so we
have
to celebrate :)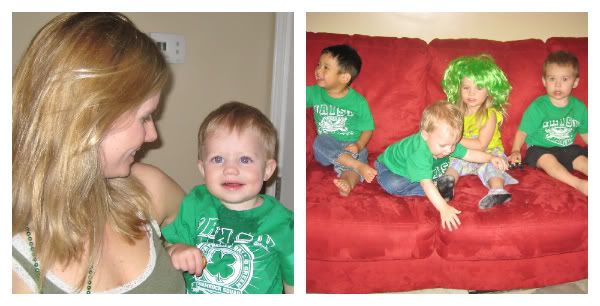 Mark took off on Friday and we went to the zoo for the first time this year. I forgot how much the kids and I love it! Tay was a little sleepy in the second picture. She was sweet up on Mark's shoulders.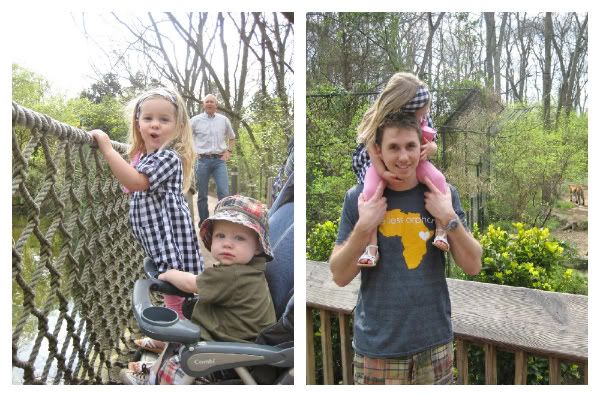 This weekend Mark's parents came to town. On Saturday, we spent the morning at the park. Everyone was worn out after a morning of play and sun.
Mark's parents brought down presents for the kids for Easter. Taylor really got into opening up her gifts. I have never seen her so excited about presents!Noah just wanted to put everything in his mouth (nothing new).

Thanks to Grandma and Grandpa Bertha officially has a new friend, Corky (yes, he looks just like the crazy doll from Child's Play). Doesn't he look a little freaky in all of these pictures?
Saturday night we went to Arrington Vineyards. I love this place!! It is the perfect place for wine tasting, a picnic, music, and letting the kiddos run free. I even snapped a shot of Mark and Taylor with one of the owners (yep, that's Kix Brooks)!
It is always wonderful to see Mark's parents and never fun to say goodbye.
There is nothing much new on the adoption front. I feel like each day we get a little closer to our new sweet baby. Everyday we get a piece of our documentation complete, get an appointment scheduled, or receive a generous donation. We are astounded by the amount of people who have offered us their prayers and support! Oh my, we are we blessed!