Have I told you before how much we love our neighbors? Well, we REALLY love our neighbors. In fact, I have forbid any of them to ever leave the neighborhood unless we can all go together. I don't think that is too much to ask…right?
Last night was our "2nd Annual Neighborhood Ugly Christmas Sweater Party". Thanks to Pinterest, we had some pretty rockin' games to play. The highlight was Christmas Minute to Win It. My personal favorites were "Can-you-get-the-red-pompom-on-a-string-up-on-your-Vaseline-covered-nose-in-a-minute game?" and "Can-you-get-the-cookie-from-your-forehead-into-your-mouth-without-using-your-hands-in-a-minute game?"
Oh and all the pictures are blurry because I still don't quite know how to use the camera at night or inside :)
The nut stacker game winner! Do you see the motivation on his face?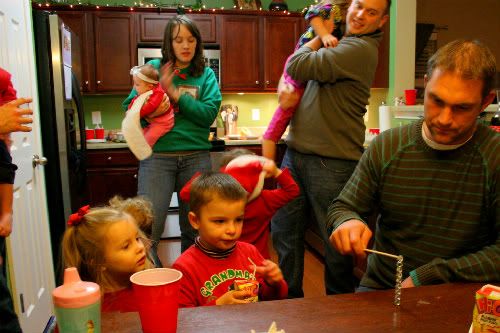 I don't have to tell you who won the red pom pom on your nose game. Do you see the amount of Vaseline on his nose? Amye, I know you are so proud!
I gave it a whirl too. I even pulled my hair back….that's how serious it was.
The only one to get the cookie into his mouth with no hands. We were all pretty excited. It's the little things in life, you know?
And these guys just had some pretty awesome facial expressions so I thought I should probably share these too (you're welcome Matt and Amye)
It's Santa…nope it's just Eddie with a phone. Isn't it crazy how kids just know when someone breaks out a phone and then they all gravitate to it?
Not sure why Luke decided to put himself in timeout, but he did. And the kids played "Pin the nose on Rudolph"
One minute they are loving on each other and the next they are belly bumping. I know it is fuzzy, but if you look close you can see the look of anticipation on Ben's face and that Tay is about to fall down from the belly bump. It was pretty awesome.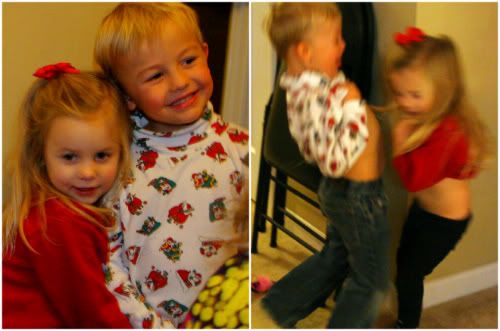 Now everyone has to practice up for next year because you know we are going to play some serious games! And I will also be nominating either Diane or Tiffany to take pictures :)